BHN Strategy Day - October 14th 2017
As part of our AGM this year, we organised discussion groups to look at strategies for BHN's future growth and improvement. In preparation, we asked members, friends, staff and volunteers to fill in a survey to help us understand what kind of areas to explore.
The themes for discussion were:
​
How do we care for the people of BHN?

How do we resource what BHN does (fundraising, social enterprise)?

How do we organise what BHN does (members, leadership, activities)?

We suggested 12 different topics for discussion. Please use the drop-down menu below to see videos and notes on each topic.
​
Thank you to all who attended our AGM and Strategy Day!
#1: Member's Forum & Leadership
---
1. We want to start a members' leadership group to meet monthly- open to all members and past members of BHN. 2. To begin with a trustee would facilitate, but not speak too much. Eventually it will be led by members. One or two people will then attend trustees meetings. 3. Create trainee volunteer roles by speaking to coordinators and finding out how they would support a member. Link with BRR, Borderlands to create programme of skills trainings that benefit members across organisations. ACTIONS: What? We want to start a members' leadership group to meet monthly- open to all members and past members of BHN. When? Contact via WhatsApp; when is the best time? Friday? Sunday? Who? Welcome, Souvik, Matthew, Sadeyeh, Naomi?
---
#2: Building 'Help Team' Capacity
---
1. Aim to speed up the process for members to put in fresh claim. Country guidance, experts, try to set up Fresh Claim Research groups to support Help Team for most common countries, possibly share documents in an online forum. 2. Access to legal advice. More volunteers could help but more about access to legal aid and good solicitors. Try to get pro-bono lawyers/law students/OISC trained people/Lawyers without Borders(?) to support BHN. 3. Support for people when waiting; well-being support groups, more social events and fun events, art groups, link into activities offered. This would need to be separate volunteer team. ACTIONS: What? Set up a research team. When? Already in motion; now with more focus. Who? Sam, Alan, Nina, Penny. What? Support those waiting; a discussion needed. When? In the next few months. Who? Penny What? Help Team to scout for legal assistance pro-bono / Lawyers Without Borders When? Ongoing from now Who? Help Team, Sam
---
#3: Awareness Raising Group
---
1. We need a leaflet in different languages to let people know about BHN who may need it - e.g. for night shelter. 2. We would like to raise awareness about asylum, destitution and BHN through films, public events, visits to workplaces, universities, churches etc. 3. We would like to make a member-led group to do this; connected to communications, Moveable Feast and other Bristol organisations (i.e. BRR VOICE Project and City of Sanctuary). ACTIONS: What? Make a member-led awareness group When? Friday /Monday Who? Nina, Naomi, Niman, Susan, Kate Other questions raised:
Where can we have meetings?
Could one Friday of the month be about leadership forum and one Friday about awareness raising?
Are the members wanting to get involved - dedicated ex-member involvement?
Could BHN members give a lesson on the asylum process?
---
#4: Taking BHN Out Of Bristol
---
1. More short breaks out of the city, such as weekend breaks and outdoor activities. 2. Apprenticeships in Community Supported Agriculture, goat farming. 1 person for a 2 week apprenticeship/training. 3. Matching skills. Give taster sessions in dry stone walling, community farming, etc. 4. Sanctuary Breaks e.g. Brecon and Swansea, weekends away, etc. 5. Taking Moveable Feast to the countryside; using agriculture sources, or hosting a food festival? ACTIONS: What? Communications external to BHN - to set things up. When? TBD Who? Rachel, Leila.
---
#5: Developing Skills / What Skills?
---
1. When someone comes to BHN, what skills do they have, and are they transferrable? 2. Who are you as a person, what innate resources do you have? E.g. Street bank, Timebank, reciprocal. 3. Find opportunities for person to use skills with members, volunteers and hosts. 4. Identify the skills that asylum seekers want to learn. 5. Improving self-esteem leads to better advocacy, to better chances of success. ACTIONS: What? Discussion with Laura about what skills individuals have and want to gain. When? By next Trustee meeting. Who? Leila.
---
#6: Moving On From BHN
---
1. Issues - the end of our support when members get back into NASS support or get Leave to Remain. 2. Ideas - volunteer mentor/buddy from ex-members or hosts? Signposting to support in other cities. Preparation for the transition; what to expect, importance of English, building resilience, well-being, how to manage stress and anxiety and expectations. ACTIONS: What? Create a list of organisations in other cities. When? Who? Help Team. What? Preparation - raise awareness of Move On process, in English classes? Skills match with employees? Work with Refugee Welcome Homes. When? Who? Penny/Oona
---
#7: How Can We Better Support Volunteers And Hosts?
---
1. BHN has improved host support, acknowledging fears and finding solutions, accepting suggestions - e.g. meetings and formal introductions to person to host. 2. A list of questions to explore is required. 3. Amount of time is too loose; 3 months renewable, creates stress, no sense of when ends. 4. Suggestion of guest agreement to take pressure off hosts. 5. BHN house; need to ensure people get induction before joining. 6. Hosts are not always aware about their guest's status and progress with their case; should hosts know? 7. How much personal support should hosts give? A need to overcome language issues through intepreters? Could we arrange meetings at BRR Welcome Centre with interpreters if needed? ACTIONS: What? - Clarify what a host can know about guest's case - Clarify agreement the guest has with BHN, how they progress their case - How do we support older guests who may be struggling? - Develop a buddying system When? Who? Susan, Hattie, Leila, Oona Also discussed:
Volunteers, communication
Provide training/incentives
Opportunities to contribute more, give more recognition, opportunities to innovate and come up with ideas
Listen - respond - support
---
#8: How Do We Get Other People Involved?
---
1. Get information on BHN to night shelters, hostels, etc. 2. Word of mouth, "shameless marketing". 3. Link with media savvy people with links to publicity. 4. Link with other charities, churches, mosques, VOSCUR - training development. 5. Recruit people with ideas, enterprise, skills and active commitment, initiative and confidence to contribute. 6. Find a way to validate, certificate/reference, and think about what motivates volunteers. 7. Students and social justice groups; exchange experiences and ideas, lead to active involvement.
---
#9: Moveable Feast / Sustainability Cafe
---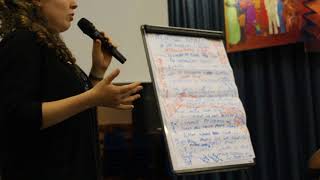 1. Solidarity Fund - paid for by restaurant profit, events alone don't make enough, need a way to generate more. 2. Set up a regular monthly event, in Easton? Same day every month. A venue we could use for free (ECFC? St Marks? Café Connect?), make venue look nice, have entertainment. 3. How much to charge? Include dessert and coffee? Do some customer research; what to cook, for how many people? 4. Could we do delivery, e.g. Deliveroo? Where would we cook? ACTIONS: What? Do research on similar projects, contact possible venues. When? Who? Rachael What? Set up project for people involved at Baba Ghanoush When? Thursday evenings Who? Shukri to ask about good date, Alice to help facilitate Also discussed: Possible chefs: Iran - Ario, Mohammed, Feraydoon Somali - Ifrah, Shukri, Abdi, Congo/Nigeria - Sally, Hortense Sudan - Misaa, Negla
---
#10: How Do We Involve Members In Discussions / Share The Way Forward?
---
1. Identify available skills among members, by talking together and meetings held in an atmosphere of friendship and respect for each other. 2. Create opportunities to practise those skills in a real context, within BHN and beyond it – create training opportunities, pair up with experienced practitioners – build self-confidence. Concern expressed to avoid breaking the law regarding employment of asylum seekers. 3. Delegate roles and tasks to members and create opportunities for team-working. 4. Encourage ideas and suggestions by discussion 5. Listen – encourage the experience of a belief in equal sharing. 6. Develop important starting point: skills for confident self-expression and development of values. 7. Give members time to make sure they are understood about the needs they express. ACTIONS: What?
Make a suggestion box/book
Hold members' meetings to organise action
When? Who?
---
#11: Campaigning Together / 'With' Not 'For'
---
Why? Instigating change for the better, to right injustices, change the asylum system (detention, destitutions, not allowed to work, lack of legal aid, lack of transparency in decision making) Who? All Asylum-seekers, some need more support than others. Priorities - medical care, #docsnotcops. Changing public opinion to change to law/government policy. How? On foot/banners, leaflets, word of mouth etc. Online petitions, personal stories, media, celebrity endorsements, top politicians.
---
#12: Our Values
---
What do our values mean? What are our top priorities? 1. Solidarity Your problem is my problem, standing shoulder to shoulder. Helping someone who not in a position to help themselves, sticking and working together. 2. Equality We are all equal wherever we from, access of opportunity. Justice, healthcare, education. 3. Mutual Empowerment Contributing, acting together, thinking together, listen and respect. If I'm more empowered I try and help someone else. 4. Hospitality Open door, open heart, sharing, helping, giving, welcoming, give time and attention, looking after. 5. Integrity Transparency, trustworthy, high moral standard, live by values. 6. Creative Resistance Has negative connotations for some. Proactive, refusing to accept defeat, imagine and invent new way.
---
---